Die Zeitung PoliTeknik wird bald in drei weiteren Sprachen, in portugiesisch, spanisch und englisch publiziert.
Redaktion/Editors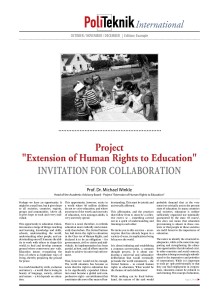 – Kumar Ratan (India)
– Tamralipta Patra (India)
– Ashley Mabasa (South Africa)
– Malathie M. Seneviratne (Sri Lanka)
– Hewa G. Cyril (Sri Lanka)
– Amasha Wijendra (Sri Lanka)
Dear Friends
Human Right to Education Greeting to all of you.
Education is a basic Human Right. We believe this. On the contrary, new data from UNESCO reflect that globally 263 million children and youth are out of school.
The number of out of school children or children who are deprived of their basic human right to education is very high. The UN agencies, National Governments, Teachers Unions and Civil Society Organisations have contributed to education movements and millions of children got their human right to education. The "Education For All (EFA)" and Millenium Development Goals (MDG)  marked a significant development in right to education of children. Sustainable Development Goal (SDG) 4, also emphasizes on right to education and envisions EFA a reality.
However, there are new challenges emerged in the changed economic, social and global order in the last few decades. The "Human Right" perspective of Right to Education for all children is missing in the new world order. The refugee crisis in European, Asian and West Asian countries, increasing ethnic conflict in societies, terrorism, climate change, distress migration and internal displacement of the population has deprived millions of children from their human right to education. Additionally, privatization has become philosophy of Governance and there is huge challenges in making human right to education a reality with help of privatization. National Governments are rolling back from public education, public health, social security and other areas. There is increased role of private players in health and education field now. To what extent the private parties are committed towards and accountable to Human Rights principle? Is there any mechanism developed to make them accountable for human right? How to ensure Human Right to Education in war zone, crisis situation, conflict area, during humanitarian crisis?
To discuss, debate and deliberate on all these aspects of Human Right to Education, we at PoliTeknik International, welcome you. We are looking forward to collaborate with youths, student union, teachers organisations, INGOs, local NGOs and different National Government, Public Policy forums for making "Human Right to Education" a reality for all children.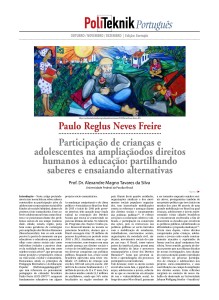 – Prof. Dr. Alexandre M. T. da Silva (Brasil)
– Camila Antero de Santana (Brasil)
– Joana Maria Kastle Silva (Brasil)
Sharing knowings and rehearsing alternatives: an education as culture
At the 27th of October of 2018, we've been joined together at University of Koblenz, in Germany, in order to share knowings and rehearse alternatives in the field of extending Human Right to Education. In this meeting, marked by a will of collective work, we have debated about challenges, perspectives and possibilities to overcome situations that hamper the access of children, young, adults and the elderly to scholar education.
One of the results of this meeting was the organization of forms to establish an intercultural dialogue with the present countries on the meeting. By this way, fellows from Brazil, India and Chile have assumed the engagement of organizing local versions of PoliTeknik Journal. So, we are going to have soon, in 2019, a new possibility for sharing knowings and rehearsing alternatives in Portuguese, Spanish and English.
Therefore, we invite comrades from countries that have Portuguese as a national language, such as Brazil, Mozambique, Angola, Portugal, Guinea Bissau, East Timor, Equatorial Guinea, Macao, Cape Verde and Sao Tome and Principe to share their local experiences about the Human Right to Education. The contribution can be in form of interviews, experience reports, articles, etc.
Teachers from public schools can participate and also students from schools and universities, university professors and those ones who act with social and community movements, whom, with their experiences, are collaborating in the sense that actually is possible to build a fraternal society, with justice, with freedom, with participation, creativity and criticality.
Our countries of Portuguese language have a historical trajectory several times characterized by challenges in political, economic, scientific, cultural and educational fields.  Many themes have been discussed in plenty institutional spaces like congresses, seminars, scientific exchanges, etc. Each one of these spaces have contributed significantly for an intercultural dialogue between Portuguese speaking countries.
However, we think one of the main characteristics of our Portuguese speaking countries is the cultural experience of resistance, built in years of colonialism and dictatorships. Several educative experiences have been performed within the movement of people inside society.
Thereafter, extending the Human Right to Education is also extending the right to take education as community experience, broadening our cultural identities, expanding articulations between education institutions and community life and enhancing dialogue with social movements.
Without this dialogue, we think that it's impossible an effective access and permanence of children, young, adults and the elderly in scholar space. And yet, without this dialogue, it's impossible that inside schools and universities will be present knowings and experiences of all and that school and university will be actual spaces for sharing knowings and rehearsing alternatives on extending the Human Right to Education.
This sharing of knowings can support that community experiences (like women groups, popular culture groups, social-community projects) see school as a place to advance in the fight for education, health, welfare, transport, habitation, nourishment, the environment, etc.
In the other hand, the dialogue of these groups with school enhances the knowings and skills of these groups in the sense that inside and behind social practices there's an educative process being built up and this must be respected and admitted by educational institutions.
For all that, we'd like to invite teachers, children, young, adults and old-aged, from Brazil, Mozambique, Angola, Portugal, Guinea Bissau, East Timor, Equatorial Guinea, Macao, Cape Verde, Sao Tome and Principe to share knowings and experiences about the Human Right to Education and, specially, share and rehearse means of learning life itself.
We'd be very cheerful with your contributions in form of article, experience reports, interviews, and others to  PoliTeknik Journal in Portuguese Language.
Best regards,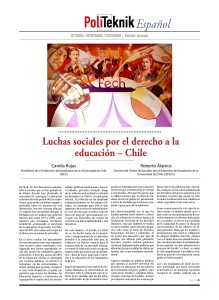 – Prof. Dr. Vernor Muñoz (Kosta Rika)
– Prof. Dr. Wolfgang Jantzen (Alemania)
Proyecto de Extensión del Derecho Humano a la Educación
Con motivo de la celebración del setenta aniversario de la Declaración Universal de Derechos Humanos, un colectivo global de académicos, trabajadores sociales, sindicatos de educadores, asociaciones de estudiantes y organizaciones de la sociedad civil, coordinados por el Periódico PoliTeknik, el Instituto de Educación y Cultura de la Universidad de Jena y el Centro Interdisciplinario sobre la Infancia de la Universidad de Wuppertal, hemos iniciado un proceso de reflexión que llevará a plantear una propuesta de extensión del artículo 26 de la Declaración Universal de Derechos Humanos, referido al derecho a la educación.
El proyecto tiene como referencia el cambio sustantivo que el mundo ha experimentado desde la adopción de la Declaración Universal de Derechos Humanos y específicamente, los nuevos retos que enfrentan los Estados, las comunidades y las organizaciones de la sociedad civil, en contextos que amenazan la provisión de oportunidades educativas públicas, gratuitas, de calidad y adaptadas a la diversidad cultural.
Entendemos que el derecho a la educación comprende un amplio rango de obligaciones estatales, consagradas en diferentes instrumentos del derecho internacional de los derechos humanos y en las legislaciones domésticas y su pleno disfrute requiere de la superación de la desigualdad, la exclusión y la discriminación en todas las esferas de la vida institucional y comunitaria.
Se trata de un derecho fundamental que a su vez permite el cumplimiento de los demás derechos humanos.  Por esta razón, este proyecto suscribe los compromisos contraídos por los gobiernos en 2015 en la Agenda 2030 para el Desarrollo Sostenible y sus 17 Objetivos de Desarrollo Sostenible.
Las metas del Objetivo de Desarrollo Sostenible número 4, que se refiere específicamente al derecho a la educación, expresan un compromiso global para que todos los países garanticen el derecho a la educación de calidad para todos a lo largo de la vida. Esto incluye el compromiso de garantizar tanto el acceso a una educación preprimaria, primaria y secundaria de calidad, como la igualdad de oportunidades en el acceso a una educación y formación post-secundaria efectiva. Una preocupación central de todos los objetivos es garantizar la igualdad de oportunidades en el acceso a un aprendizaje efectivo y relevante.
Guiados por estos propósitos universales, hemos realizado diversas actividades de análisis y divulgación, incluyendo simposios, seminarios, publicaciones y discusiones técnicas entre las personas, instituciones y organizaciones participantes del proyecto, con base en las cuales deseamos presentar próximamente a consideración de los Estados Miembros de la Asamblea General de la Organización de Naciones Unidas, una propuesta de extensión del citado artículo 26.
Este proyecto busca actualizar el conjunto de obligaciones y derechos involucrados en la arquitectura fundacional del derecho humano a la educación y de esta manera fortalecer la implementación de acciones políticas e institucionales para su plena realización.
El desarrollo del proyecto requiere de la participación de sectores diversos y por este motivo cuenta con un Consejo Académico, integrado por instituciones y personas provenientes de universidades, sindicatos, organizaciones de la sociedad civil e institutos de investigación.  Además, el proyecto cuenta con un Centro de coordinación liderado por el Periódico PoliTeknik, que además es responsable de establecer consejos académicos y de asesoría en diferentes países, en las que participan universidades, sindicatos, grupos de estudiantes, organizaciones no gubernamentales y representantes de Ministerios de Educación.
La participación de estas personas, y por su medio la ampliación de la membrecía del proyecto, es fundamental para la consecución de los fines planteados, considerando que la extensión del derecho humano a la educación debe responder a una reflexión sistemática respecto de los alcances de la Declaración Universal de los Derechos Humanos y su capacidad de respuesta a una realidad global cada vez más compleja.
Para trabajar en la elaboración de la propuesta se han integrado varios comités de redacción, dependiendo del idioma de trabajo.  Para la lengua castellana, el comité está integrado por Wolfgang Jantzen y Vernor Muñoz
Las personas interesadas en unirse al proyecto pueden escribir a:
PoliTeknik 
info@politeknik.de
http://politeknik.de/language/de/